September 21 is World Alzheimer's Day, and the entire month of September is dedicated to World Alzheimer's Month. The campaign theme for World Alzheimer's Month 2023 is "Never too early never too late". Due to the unclear pathogenesis of Alzheimer's disease (AD) and the absence of a definitive cure, there have been low success rates in the development of new drugs. This is why society is currently placing more hope on early screening and prevention, with the goal of intercepting the causes of AD at the source to halt its occurrence and progression.
Despite the numerous challenges in the path of new drug development, major pharmaceutical companies and researchers worldwide continue to tackle these challenges with great dedication and substantial funding, aiming to accelerate the progress in AD drug development. In recent years, there have been notable advancements in the development of new drugs for AD. In July of this year, at the Alzheimer's Association International Conference (AAIC) held in Amsterdam, the Netherlands, Lilly reported the latest comprehensive data from a Phase 3 clinical trial of the Donanemab monoclonal antibody for the treatment of early symptomatic AD. The data showed that Donanemab is capable of completely clearing β-amyloid proteins in the brain and significantly slowing the disease progression in early-stage AD patients[1]. On September 14, 2023, Anavex announced the results of their ongoing research on the oral drug Anavex2-73, also known as blarcamesine, for AD. The Phase IIb/III study reveled that this product significantly slows down the decline in cognitive function among AD patients. The primary endpoints of the study included improvements in the AD Assessment Scale-Cognitive Subscale (ADAS-Cog) and the Alzheimer's Disease Cooperative Study Activities of Daily Living (ADCS-ADL) scale. Furthermore, clinical efficacy was supported by two independent biomarkers: a significant reduction in pathological β-amyloid protein levels in the plasma and a significant deceleration in pathological brain atrophy rates observed through MRI (magnetic resonance imaging) scans. These results suggest the potential benefits of Anavex2-73 in slowing the progression of Alzheimer's disease in patients[2].
GemPharmatech's AD mouse models
The development of AD drugs relies on the support of effective animal models, and GemPharmatech has been actively engaged in the field of AD for three years. We are dedicated to offering top-notch mouse models and efficacy evaluation services to researchers. At present, GemPharmatech not only possesses the first domestically owned FAD4T mouse model with independent intellectual property rights but also provides classic AD mouse models, including FAD3T (APP/PS1/Tau).
AD mouse models list in GemPharmatech
| | | |
| --- | --- | --- |
| Strain ID | Strain Name | Characteristics |
| T049751 | FAD3T(APP/PS1/Tau) | Aβ deposition can be detected at 4 months of age, while Tau with various phosphorylation sites emerges at the same age, and spatial cognitive impairment appears at 6-month-old. |
| T053302 | FAD4T | Aβ deposition can be detected at 1.5 months of age, gliosis appeared at 2 months of age, and spatial cognitive impairment appears at 8-months-old. |
| T056008 | B6-hTREM2 | Human TREM2 mRNA and protein were successfully expressed in the brain and lung tissues of B6-hTREM2 mice. This strain can be utilized to assess the efficacy and mechanisms of neurodegenerative diseases, tumor immunity and metabolic syndrome. |
| T058996 | FAD4T-hTREM2 | The FAD4T-hTREM2 mouse model was constructed on the background of FAD4T to target the TREM2 signaling pathway. This model can be employed for evaluating the efficacy of monoclonal antibodies or small molecule drugs and for exploring the function and regulatory mechanisms of the central hub of TREM2 pathological signaling in order to investigate immunotherapy for Alzheimer's disease. |
Data collection of FAD3T(APP/PS1/Tau)
1. Aβ deposition can be detected at 4 months of age
Ctx: Cortex; Hip: Hippocampus; Sub: Subiculum. Scale bar, 200μm
2. Phosphorylation of Tau protein at site 231 exhibit a significant increase at 4 months of age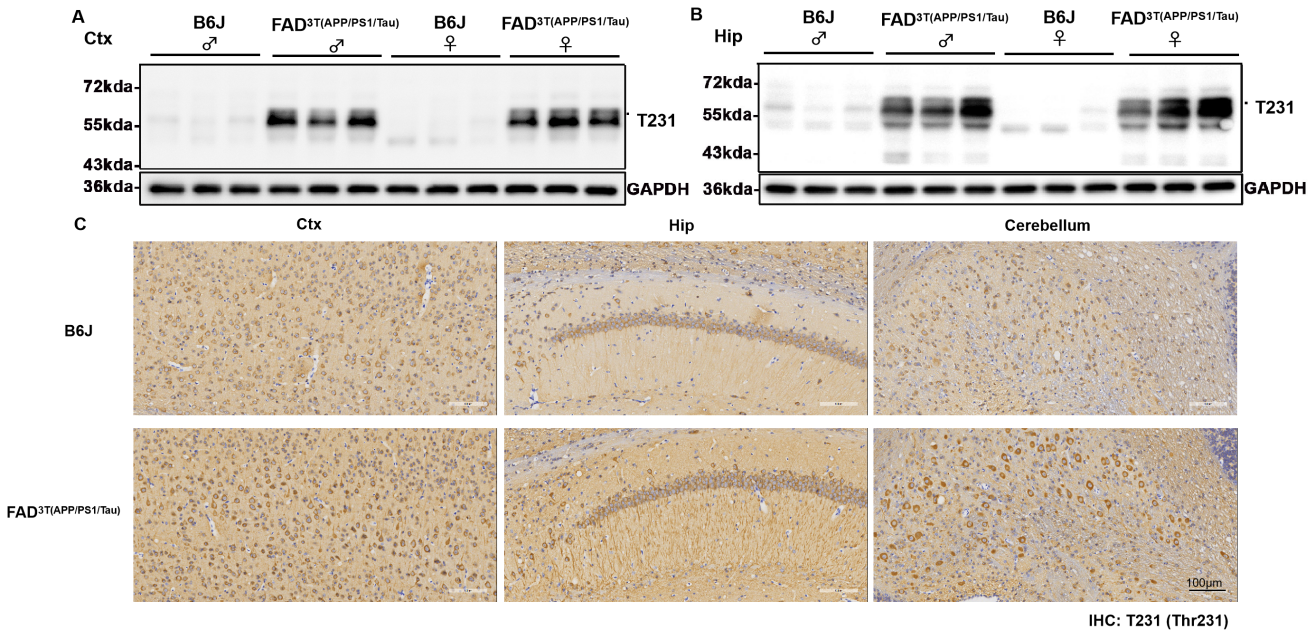 Ctx: Cortex; Hip: Hippocampus. Scale bar, 100μm
3. FAD3T(APP/PS1/Tau) mice exhibit spatial learning and memory impairment at 6 months of age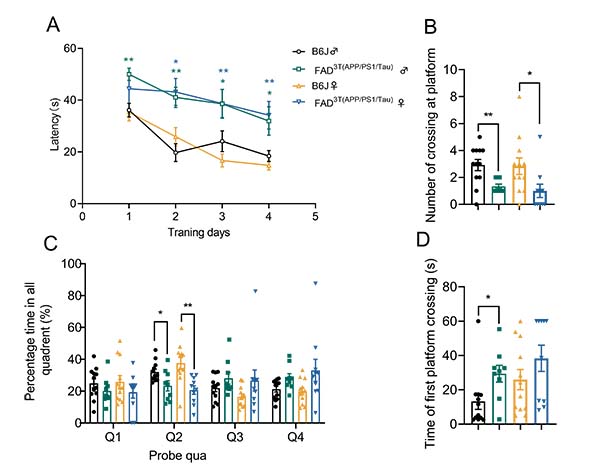 Data represent as MEAN ± SEM, unpaired two tailed Student's t test.
References:
1. Alzheimer's Association Statement on Donanemab Phase 3 Data Reported at AAIC 2023.
2. https://www.anavex.com/post/anavex-sphase2b-3trialofblarcamesine-anavex-2-73-inpatientswithalzheimer-sdisease