GemPharmatech's Board Appoints Brandy Wilkinson, Ph.D. as its New Chief Executive Officer of GemPharmatech LLC.
GemPharmatech LLC., a leading contract research organization, announced today that its Board of Directors has appointed Dr. Brandy Wilkinson as the Chief Executive Officer of its subsidiary in the United States, effective September 12, 2023.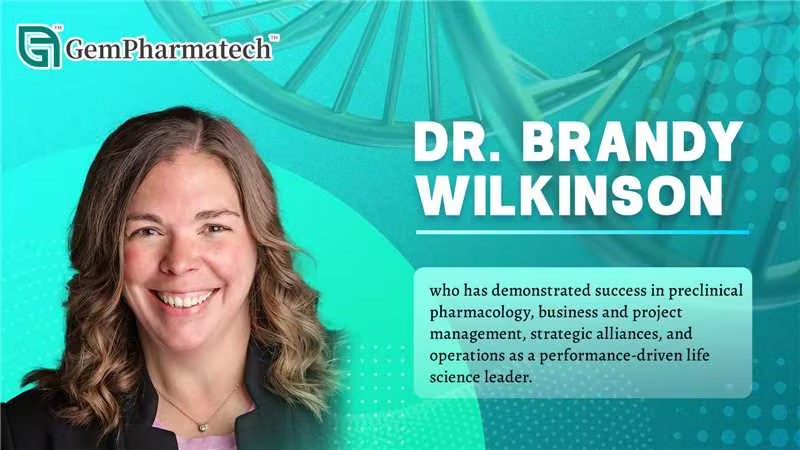 Dr. Brandy Wilkinson is a highly accomplished leader in the field of life sciences, with a strong background in preclinical pharmacology, business and project management, strategic partnerships, and operations. She specializes in preclinical oncology drug development and has successfully led numerous fast-paced teams within Contract Research Organizations (CROs), effectively managing coordination between external clients and internal resources.
Over the past decade, Dr. Wilkinson has gained extensive experience in designing, managing, and executing various translational research projects focused on oncology therapeutics. Through close collaboration with major pharmaceutical and biotech companies, she has demonstrated proficiency in cancer translational medicine, program and project management, PDX models, humanized mice, cancer biology, cancer pharmacology, cancer drug discovery, cancer genetics, immune-oncology, efficacy testing, in vivo pharmacology, and drug discovery.
Dr. Wilkinson's exceptional skill set also includes establishing and validating models to ensure the accuracy and reliability of research methodologies. With a proven track record of success in the life sciences industry, she is a valuable asset and trusted expert in driving the development of innovative and effective oncology treatments.
"Having conducted a thorough search process, we are delighted to have discovered an individual of Brandy's exceptional abilities who will assume the role of Chief Executive Officer at GemPharmatech LLC.. With her expertise, she will play a crucial role in guiding and spearheading the company's growth into its next stage," said Dr. Xiang Gao, Chair of the Board of GemPharmatech Co. Ltd. "Brandy's exceptional blend of extensive technological and commercial experience will prove to be a valuable asset to GemPharmatech. The Board is enthusiastically looking forward to collaborating with Brandy, as she brings a fresh perspective, a demonstrated track record of driving profitable growth, and a strong commitment to creating value for all stakeholders of GemPharmatech. We have full confidence that under Brandy's leadership, GemPharmatech will continue to successfully achieve its goals and generate long-term value for its shareholders."
Dr. Mark Moore, the former CEO, departed from the company on September 10th, while Dr. Brandy Wilkinson joined on September 12th. Mark is no longer a member of the LLC's Board of Directors. Following Brandy's appointment, she will assume the role of CEO for the LLC; however, she is currently not a member of the LLC's Board of Directors.
"I want to thank Mark for his invaluable contribution as the former CEO during this important transition," said Dr. Xiang Gao.
About Brandy Wilkinson
Brandy Wilkinson will become the Chief Executive Officer of GemPharmatech LLC. effective September 12, 2023. Brandy has an extensive background in the biotech industry. From July 2022 to the present, she has been serving as the Vice President of Scientific Solutions for Innovive in San Diego, CA. In her current position, Brandy was hired to build a scientific services division from the ground up with a focus on providing emerging biotech companies with in vivo operational staff, regulatory compliance, and equipment/consumables for vivarium operations. She is also a member of the Executive Leadership team with a remit to provide scientific expertise to all future manufacturing and design programs. Prior to that, Brandy spent over two years as the Vice President of Operations and Research for Explora BioLabs (Now Charles River Laboratories/CRADL) and was responsible for managing multiple business units, including Vivarium Operations, Contract Research, Veterinary Services, and Client Services. She also established new Explora turnkey vivarium facilities and operations in two new geographic markets: Boston, MA, and Seattle, WA. During her time at Covance Laboratories, she grew YOY business line revenue by 53% and served as a global preclinical subject matter expert on acquisition due diligence teams and LabCorp Business Advisory Teams.
About GemPharmatech
GemPharmatech is a leading contract research organization that provides genetically engineered mouse models and preclinical research services to the scientific community worldwide. Our company is steadfast in its commitment to providing cutting-edge and novel solutions to researchers in their pursuit of scientific exploration and pharmaceutical development. At GemPharmatech, we specialize in the development of animal models utilizing advanced gene-editing technologies, and we have an extensive library of KO/cKO mice, humanized mice, immunodeficient mice, and germ-free mice. We offer a wide range of preclinical services, including mouse model customization, pharmacology services such as drug efficacy evaluation and mouse phenotyping, CRISPR/Cas9 gene editing, cryopreservation, and customized breeding.
Our ultimate goal is to accelerate scientific advancement and pharmaceutical development by supporting our clients with the most innovative tools and services. We have amassed one of the broadest collections of mouse models in the world, which have garnered immense popularity among scientists globally. By partnering with GemPharmatech, our clients benefit from having access to a comprehensive range of research tools and services to aid them in their research endeavors and promote scientific discovery. GemPharmatech is committed to pushing the boundaries of preclinical research and assisting our customers in achieving their research ambitions. We take great pride in providing exceptional customer service and are dedicated to providing our clients with the highest-quality research solutions.